– 文献名 –
Shi L, Starfield B. The effect of primary care physician supply and
income inequality on mortality among blacks and whites in US metropolitan
areas. Am J Public Health. 2001
Aug;91(8):1246-50.
– この文献を選んだ背景 –
 In terms of medical policies, how access to care
influence population health is a relevant issue. My clinical question is "primary
care physician improve population health ? ". I searched for the evidence and
picked this article out for today's discussion.
– 要約 –
Objectives:
This study assessed whether income inequality and primary care physician supply have a different effect on mortality among Blacks compared with Whites.
 
Methods:
We conducted a multivariate ecologic analysis of 1990 data from 273 US metropolitan areas.
 
Results:
Both income inequality and primary care physician supply were significantly associated with White mortality (P < .01).After the inclusion of the socioeconomic status covariates, the effect of income inequality on Black mortality remained significant (P < .01), but the effect of primary care physician supply was no longer significant (P > .10), particularly in areas with high income inequality.
 
Conclusions.
Improvement in population health requires addressing
socioeconomic determinants of health, including income inequality and primary
care availability and access.
↓ 画像をクリックすると全体が表示されます。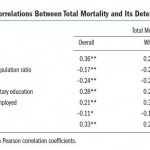 ↓ 画像をクリックすると全体が表示されます。

↓ 画像をクリックすると全体が表示されます。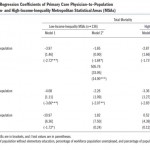 – 考察とディスカッション –
 An econometric analysis has some weak points. First, omitted-variable bias is likely to occur because a dependent variable is influenced by numerous factors in social environment. Omitted-variable bias occurs when a model is created which incorrectly leaves out one or more important causal factors. Second, accurate regulations of confounding factors are usually difficult because of high complexity. But what is important is doing with the best knowledge available at the time. Policy should be done promptly and then checked whether it is effective or not. Social medicine needs a capability to evaluate policy which is ever adopted. 
開催日:平成25年7月17日